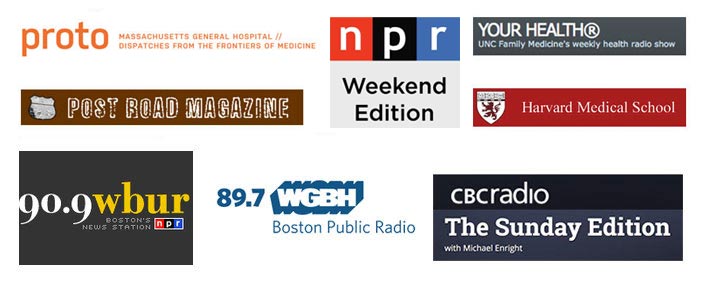 Discussion of Letter to a Young Female Physician at Healthy Habits 4 Life podcast with Dr. Carol Perlman
Interview with Caroline Leavitt
Review of Letter to a Young Female Physician in The Wall Street Journal by Laura Kolbe
"Holding Up a Mirror to a Life in Medicine" feature and interview by Julia Klein at Johns Hopkins University Hub
"Overcoming Imposter Syndrome" interview with Nataly Kogan for the Happier Podcast
Interview with Alain Guillot
"Something Constructive Out of Chaos," interview by Colleen M. Farrell at The Rumpus
Slow Stories Podcast with Rachel Schwartzmann
"Writing about Medicine and Being a Doctor" interview with Lisa Tener
Leslie Jamison interviews Suzanne for Literary Hub
Emily Silverman interviews Suzanne for The Nocturnists
Suzanne appears on Marketplace Radio
Suzanne appears on WAMC Radio Roundtable
Rana Awdish's review at the Los Angeles Review of Books
Vidya Viswanathan's review at Doctors Who Create
Interview on Narrative in the Hospital with Scott Simon on NPR Weekend Edition
Podcast "The Way We Live Now" with Dani Shapiro
Podcast "The Examination of a Poem" at Proto Magazine
"Why Storytelling Matters in Medicine" interview at Harvard Health Policy Review
Gameplan Podcast at Bloomberg News on "Letter To A Young Female Physician"
Interview at Doctors Who Create
"Letter To A Young Female Physician" featured at Upworthy.com, Bustle.com, Motto/Time.com, Refinery29, Health Desk Italia

Interview at Post Road Magazine.
Interview with science writer Jo Marchant about mind/body medicine. At Meaning of Life TV.
"The Role of Writers in a Stem-Obsessed Society" at Ploughshares Blog
Feature in Proto Magazine
"The Healing Power of Story" at Harvard Medical News.
Interview on University of North Carolina's "Your Health" Radio on "The Doctor's New Dilemma: Time."
Feature story at Narrative Medicine Symposium at Brigham and Women's Hospital.
Interview on CBC Sunday Edition: "Taking the Temperature of Sick Lit."
"Education, The Arts, and Healing" at The Palette podcast.
Interview with Sacha Pfeiffer at WBUR's Radio Boston: "Are We Losing Touch in the Doctor-Patient Relationship?".
Interview with John Schumann at NPR's StudioTulsa "On Health" about mental health and primary care.
Interview with Callie Crossley on WGBH's Boston Public Radio on humor in medicine.